Registering Your Club
Please follow these easy steps to register your club
Registration Form Submission
Go to the Registration Page, you will be presented with the following registration form: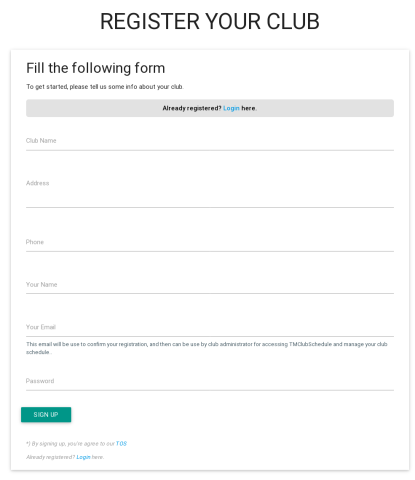 Make sure the email address you submit is valid and accessible.
The email will be use to activate your registration and also became first club administrator account you can use to sign in into TMClubSchedule.
Club Activation
After you submit the form, you will receive confirmation email which also contains a unique link to activate your registration. The activation link will be valid for 48 hours.
Open (click) the link to activate your club account. Once activated, you will be redirected into login page and you can directly login using your email and password you submit earlier.
Logging In
To login into your club dashboard, you can access the following url: https://app.tmclubschedule.com/adm
Enter your login information, click LOGIN or hit enter, and Happy Scheduling!